Sony unveils PS-HX500 Hi-Res Audio turntable
During last week's CES in Las Vegas, Sony revealed details of its new "audiophile" turntable, the PS-HX500, with high-res audio compatibility. It features a high-quality A/D (analog to digital) converter, so you can connect it to your computer via the included USB port and rip your vinyl as High-Resolution Audio tracks, up to DSD 5.6 MHz or PCM 192 kHz/24 bit quality. While there aren't many physical differences between the PS-HX500 and other turntables in the same category, this is one of Sony's biggest selling points. The built-in phono preamp, also lets you switch between line and phono output.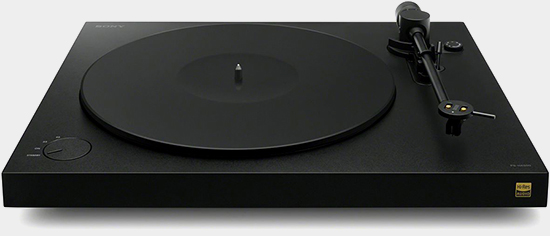 The PS-HX500 has a 1.18" thick, acoustic-grade MDF plinth supported by four uniquely shaped rubber feet, and comes with a precision-shaped dust cover, designed exclusively for minimal vibration. The belt-driven, high-inertia aluminum die-cast platter offers great balance between strength and mass, and is topped by a newly designed 0.20" rubber platter mat. The straight tonearm's integrated shell type design improves durability and stabilizes the cartridge. Also its lightweight structure helps to optimize the lowest resonance frequency and improve traceability of low frequencies, while its rounded shape helps deliver pure sound untainted by sound characterization. It comes with a pre-installed MM cartridge, and has an adjustable counterweight and anti-skate adjust.
Sony's PS-HX500 turntable will be available later this spring and will be priced at around $600.