Pro-Ject's new vertical, wall-mountable turntable
At CES, earlier this month Pro-Ject had a new vertical, wall-mountable turntable on display, the Pro-Ject VTE. As reported by What Hi-Fi?, it's still just a concept design and it will be produced or not based on customer response. The turntable can be set horizontally, vertically (using a rear support) or wall-mounted, allowing you to display your records as they spin. Pro-Ject CEO and founder Heinz Lichtenegger told Analog Planet that the VTE turntables are "lifestyle products" and should be treated as pieces of furniture.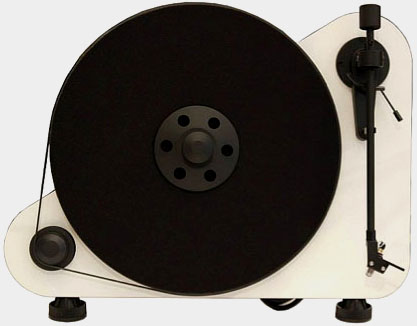 Based on Pro-Ject's Elemental plug and play model, the new belt-drive turntable will have a basic and a special version with built-in phono preamp and Bluetooth transmitter, for playing records through wireless systems. Also, the VTE will be released in both left and right-handed versions, and available in black, white and red finish. The aluminum tonearm is pre-mounted with an Ortofon OM53 cartridge, and has specially-adjusted tracking force and anti-skate to compensate gravitational force when placed vertically.
Here's an exclusive video of the new Pro-Ject VTE shot by hxos: