Mobile Fidelity introduces MoFi turntables, cartridges, and preamps
Chicago record label Mobile Fidelity Sound Lab has been around since 1977 and is a leader in audiophile recordings, with both analog (LP) and digital (SACD) releases. At CES 2016 in Las Vegas, they introduced their first ever turntables under the MoFi brand, the entry level Studio Deck and the high-end model Ultra Deck. They were designed by Allen Perkins, one of the world's most talented turntable designers, who manufactures his own line of turntables under the Spiral Groove brand, with prices starting above the $20,000 price point.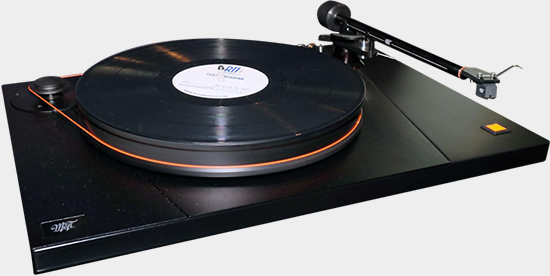 The less expensive Studio Deck, priced at $999, features an MDF plinth with hinged dust cover, a 10-inch damped aluminum, gimbaled tone arm, Delrin platter and pulley, an A.C. synchronous motor and an inverted main bearing. For an extra $150, costing $1,149 you can get this model completed with a new $299 Mobile Fidelity MM cartridge, featuring an elliptical stylus and aluminum cantilever. The $1799 Ultra Deck features a more complex multi-layer plinth design, a thicker and heavier platter, and a number of other improvements to improve damping. For $1999 it comes with a new $600 Mobile Fidelity cartridge featuring a nude elliptical stylus.
The MoFi line is completed with phono pre-amps, the StudioPhono ($249 MM, $299 MC) and UltraPhono ($399 MM, $499 MC), and three moving-magnet cartridges, StudioTracker ($599), UltraTracker ($299) and MasterTracker ($899). They also offer two record clamps, the Super Flyweight ($125) and Super Heavyweight ($225).