Elipson announces Alpha and Omega turntables
French spherical speaker manufacturer Elipson Audio has announced the introduction of its first ever turntable range, entirely designed, developed and manufactured in France by the company's designers and engineers. Their line-up consists of the entry-level Alpha 100 and top of the range Omega 100 models, both available in three versions: basic version, RIAA version with built-in phono preamp, and the BT RIAA version with built-in preamp and Bluetooth connectivity. The Alpha 100 comes with a MDF chassis in matte black finish, while the Omega 100 has a high-density PMMA (acrylic glass) chassis with non-scratch acrylic lacquer finish in gloss black, white or red.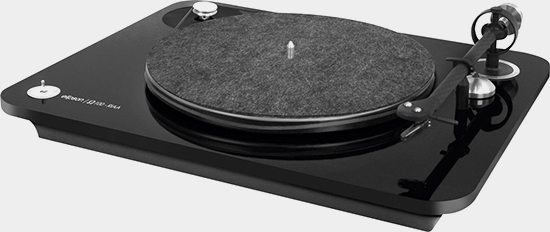 Featuring an advanced electronic design, the new Elipson turntables can work on any voltage and any frequency in the world, from 100-240V and 50-60Hz. Speed is automatically controlled using Direct Digital Synthesis (DDS), with a "digital slope" to avoid belt slipping and prevent motor reliability, while the Digital Sinusoidal Signal synthesis ensures optimum and precision RPM. The MSD (Motor Suspension Device) is an additional device designed to mechanically suspend the motor and eliminate vibration, whilst the ICB (Infinite Centering Bearing) consists of a precision cut bronze bearing. Elipson has also developed its own Orbital Torsion Tonearm with integral torsion adjustment for controllable anti-skating, and comes pre-fitted with an Ortofon OM10 cartridge.
Elipson's new turntable range will be officially launched at the Bristol Sound & Vision Show, and available from March 2016.
Here's video with the team, presenting their product: