Panasonic relaunches Technics turntable line
During a press conference at IFA in Berlin, Panasonic announced the re-launch of the iconic Technics turntable line, which was discontinued back in 2010. Their first turntable under the Technics brand name was introduced in 1969 with the SP-10 model for a professional market. This was followed by the SL-1100 in 1971 and the SL-1200 series in 1972 for the consumer market. The brand quickly earned critical acclaim for its excellent sound quality and reliability, the Technics SL-1200 turntable becoming an industry standard in the DJ world and a revered piece of hardware in dance music history. Last year at IFA, Panasonic re-launched the Technics brand with a pair of high-end audio systems.
After years of petitioning by tens of thousands of music enthusiasts and DJs, asking for the re-introduction of the classic SL-1200 turntable, at this years show Panasonic finally presented the prototype of a new direct-drive turntable. Michiko Ogawa, the director of Technics and executive officer at Panasonic, told Wired: "Turntables are a very iconic product for the Technics brand. It is important to show our sincere dedication [to that]. The turntable market is very small but it is a very important brand product."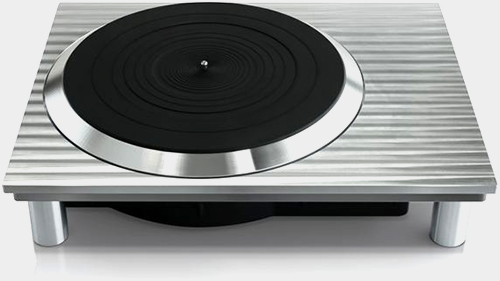 Panasonic said that the turntable will be completely re-built, with new elements at every level, but designed with the classic look and feel. For this, they developed a new direct drive motor with a coreless stator and twin rotors that reduce bearing load and minimize tiny rotational fluctuations, and a redesigned high-precision motor control technology. The images that appeared after the announcement present a plain aluminum turntable base with a rubber mat topped platter, but don't give details about the tonearm or controls and how the finished product will eventually look like. Watch a video of the spinning prototype here.
According to Wall Street Journal, due for release in 2016, the new Technics turntable will be available somewhere between April 2016 and March 2017.
At IFA, Panasonic also announced new additions to the Thechnics product line with new amplifier, headphones and Hi-Fi all in one.
You can watch the announcement here: