New RPM 9 Carbon and RPM 10 Carbon turntables from Pro-ject
After extensive research and development, Pro-Ject recently updated its mid-level RPM Line with two new models, the RPM 9 Carbon and the RPM 10 Carbon, addressing the high-end market. Both are upgraded versions of existing models, the RPM 9.2 Evolution respectively the RPM 10.1, maintaining the unmistakable "teardrop" shaped design of their predecessors, with several major improvements in the chassis, platter, tonearm and motor.
RPM 9 Carbon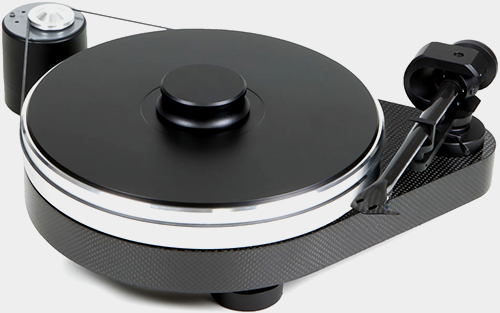 The RPM 9 Carbon's extra-heavy plinth has a CNC machined MDF structure with sandwich construction, incorporating hard resin-coated steel pellets to provide high-mass and rigidity. After a complex heat treatment process, the plinth has been covered in carbon fiber to further reduce resonance levels. The chassis is then effectively decoupled from its support with the help of magnetic feet.
The new 7,2kg polished aluminum platter is internally lined with TPE (thermoplastic elastomer) damping material and has a top vinyl layer. This sits on a stainless steel spindle with inverted ceramic main bearing that provides a stable speed and low rumble. It uses a perimeter belt-drive mechanism, with the motor unit completely decoupled from the base and features a built-in speed change switch on the turntable's top panel for easy changing between 33 and 45rpm. The motor sits on top of a custom-designed steel base for improved stability and integrates an own electronic DC/AC power generator for reduced speed variation.
The RPM 9 Carbon features a 9" 9CC Evolution tonearm with conical carbon-fiber tube and inverted bearing design, and is supplied with a top-grade 5-Pin to RCA (XLR available as an option) Connect-it CC cable for improved signal transmission.
It has a suggested retail price of £1500 and for an extra £400 UK customers can have it fitted with an Ortofon Quintet Black cartridge.
RPM 10 Carbon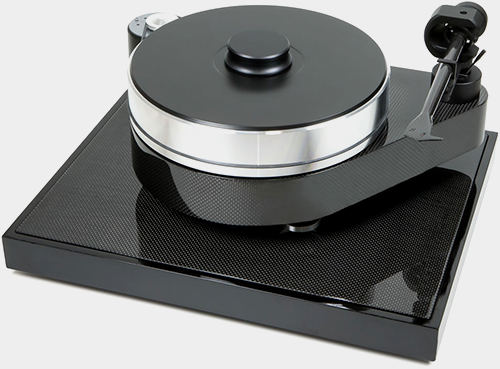 While most features of the two new models are shared, the range-topping RPM 10 Carbon comes with a highly-acclaimed 10" 10CC Evolution tonearm and a 14.5kg Ground-it Carbon high-mass isolation platform that ensures quiet and undisturbed operation of the turntable.
The RPM 10 Carbon has a suggested retail price of £2300 and an optional Ortofon Cadenza Black cartridge can be included at a discounted price of £1000.
Both models come with a high quality, heavy weight record clamp. Acrylic dust covers are available separately from Pro-Ject's Cover-it range.