Phono Signature, a new phono stage by Cyrus Audio
Cyrus Audio introduced a new phono stage technically designed to exceed the expectations of serious vinyl audiophiles, particularly in areas such as dynamic performance, accurate cartridge matching and flexibility of use. The new Phono Signature is claimed to be the most advanced phono pre amplifier available anywhere in the world today.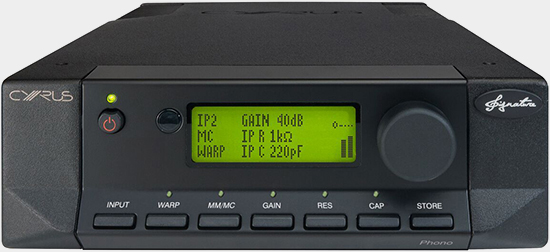 It allows up to four turntables to be permanently connected, letting the user to easily switch between different turntables, arms or cartridges. Each of its four phono inputs can be adjusted in gain, resistance and capacitance, facilitating 160 possible combinations. These settings are then conveniently saved to memory for future reference. The included IR remote control features of all the main adjustment options. On its display, the stereo output level meters are working in real time, allowing clear and accurate gain adjustment to optimize the headroom available from your system. In addition a switchable warp filter is provided to maximize amplifier performance.

The passive RIAA filtering uses very high performance metallized polyester capacitors for ultimate accuracy and performance. The circuit layout and component placement ensures a very low noise floor to further expand musical dynamics. It features a high capacity and very low noise DC power supply that enables the preamp to provide a wide dynamic range ensuring extended signal levels long before clipping. By connecting the optional external PSX-R2 power supply, for a highly regulated DC power, an additional improvement can be achieved in the signal amplification.
The Phono Signature is now available for £1,200 and comes with a Brushed Black or Quartz Silver finish. Cyrus also has a trade in offer for your current phono stage, which cuts back the price of the Phono Signature by £200. The offer is valid from December 2015 until the end of February 2016.