New Audio-Technica AT-LP60-BT wireless turntable
At CES 2016 Audio-Technica introduced its new entry-level wireless turntable, the AT-LP60-BT, which gives you all features of the popular AT-LP60, but with the added convenience of Bluetooth technology. The fully-automatic belt-drive AT-LP60-BT turntable allows you to broadcast your vinyl around the house through compatible Bluetooth wireless speaker systems, headphones, A/V receivers or other wireless playback devices. Also, the turntable's memory can remember up to eight different wireless devices, so it's ready to be paired with your chosen favorite Bluetooth device with a simple push of the Function button.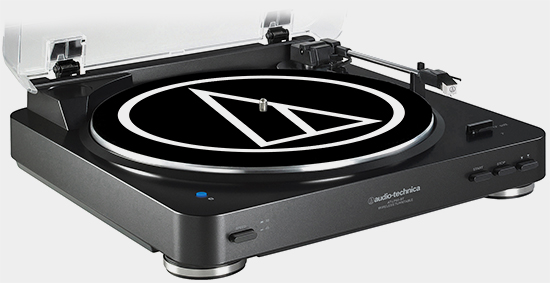 It features a completely automatic operation: by pushing the Start button the turntable starts playing the record, positions the tonearm and places the stylus at the beginning of the record; the Stop button lifts and returns the tonearm to the tonearm rest - the stop function is automatically activated when a record has played all the way through. There's also a Lift button that raises or lowers the arm without stopping the record from spinning.
The included a built-in phono preamp is on/off switchable, so the turntable also gives you the option of operating it with a traditional wired connection, enabling it to be used with a wide variety of music and home entertainment systems, powered speakers, and A/V receivers that do not have Bluetooth connectivity or include a dedicated phono input. However, the new unit doesn't have a USB output.
The AT-LP60-BT has a heavy-duty precision cast aluminum platter and a high-quality Audio-Technica moving magnet cartridge with replaceable stylus integrated into the tonearm. It can play both 33-1/3 and 45 RPM records and comes with a 45 RPM adapter, analog output (for wired connection) and a removable hinged dust cover.
The Audio-Technica AT-LP60-BT is available in black (AT-LP60BK-BT), white (AT-LP60WH-BT) and navy (AT-LP60NV-BT) at a suggested retail price of $179.95 (USD).
Get it here