New Audio-Technica AT-LP5 USB turntable
Audio-Technica has over 50 years experience in turntable production, with their AT-LP120USB being one of the go-to options for people shopping for an affordable, good quality deck. At IFA this year, the company introduced a more mature looking entry-level model, called AT-LP5 USB.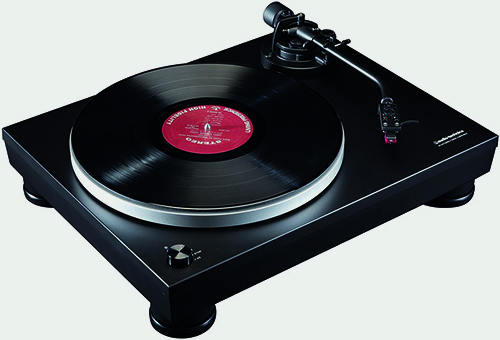 The Audio-Technica AT-LP5 is a direct-drive turntable housed in a weighted chassis with heavy-mass metal inserts, a structure engineered to minimize resonance and comes in matte black paint finish. It features a sturdy die-cast aluminum platter topped by a 5mm thick rubber-composite platter mat.
Instead of an S-shaped tonearm found on the AT-LP120USB, their new turntable has a J-shaped tonearm, based on original Audio-Technica designs from the 60s and 70s. It has a hydraulically-damped tonearm lifting mechanism, anti-skate control and adjustable counterweight. The tonearm is pre-fitted with a high-performance AT95EX dual moving-magnet cartridge, specially designed for the AT-LP5 USB, mounted on a lightweight AT-HS10 headshell.
The AT-LP5 has a built-in preamp, but you can bypass it with a switch and use your separate phono stage instead to provide line level output. It also includes a USB output bundled with an Audacity recording software for vinyl digitization via a direct connection to a computer.
It can play records at 33 1/3 rpm or 45 rpm and uses a stable high-rated internal power supply with enhanced grounding.
The Audio-Technica AT-LP5 will be available for a suggested retail price of £330, about $500.