Best belt-drive turntables under $500
Rega is a well known British hi-fi manufacturer and has been producing turntables since 1973. Their entry-level RP1 model, introduced in 2010 is a revised version of the Rega P1 (released in 2006), with new platter material, lighter tonearm and better motor. Also, it was the first model in a new generation of Rega "RP" turntables, providing far greater performance than their predecessors. The multi-award winning RP1 is made in Rega's factory in Essex and is designed to achieve outstanding performance way beyond the expectations of a product at this price point.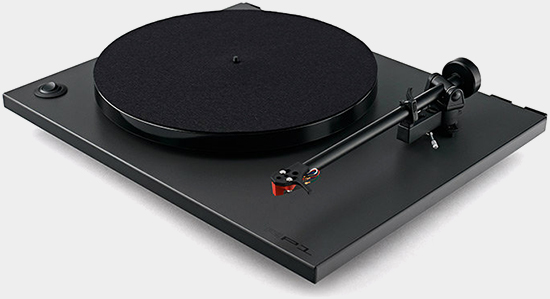 It has a plain rectangular MDF plinth with three fixed rubber feet and comes with a beautifully finished clear dust-cover which can be easily installed or removed. The RP1's platter is made of phenolic resin, a plastic material similar to Bakelite, that improves speed stability, minimizes resonant frequencies and helps eliminate vibration.
The main bearing is made with a brass well, a small steel thrust ball and features a steel spindle pressed into a 4" sub-platter which takes the belt. Using a round rubber belt, the molded sub-platter is driven by a low-vibration synchronous motor with a stepped pulley. Speed change between is done manually, by removing the platter and moving the drive belt to either the 33 1/3 or 45rpm groove of the drive pulley. Using a manual speed change instead than an automatic mechanism eliminates speed inconsistencies and reduces wear of the drive belt.
The hand assembled RB101 tonearm on the RP1 is an upgraded, significantly lighter version of the RB100 used on the P1, and has a three point mounting platform. It uses a simplified version of the alloy armtube casting that was developed for Rega's highly praised RB300 tonearm, with a separate, glued-in headshell and a plainer bearing housing. The tonearm comes with a factory-fitted and aligned Rega Carbon cartridge, and the correct tracking force can be achieved by sliding the counterweight to the already marked position (for 1.5g - 2.0g cartridges) on the arm. The anti-skate adjust slider is located under the tonearm and should be set to the same figure as the tracking weight.
The RP1 is available in three colors: Cool Grey, Titanium and white.
---
Austrian manufacturer Pro-Ject's entry-level Elemental turntable is designed to be as plug-and-play as possible, working almost straight out of the box without any complicated setting-up or adjustments. It's chassis was reduced to a bare minimum and instead of using a rectangular plinth, the motor, platter and tonearm base all sit in line on a single piece of low-resonance MDF "plank", rounded at both ends. To this slim plinth, Pro-Ject added a central gravity mass point, made from "artificial stone", placed directly underneath the main platter bearing. This heavy base compensates for lightweight materials used in the turntable structure, provides a stable platform and absorbs unwanted rumble and motor vibration.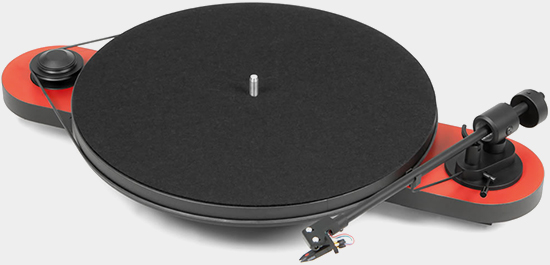 The platter is a single piece of CNC-machined MDF (no subplatter), with the spindle pressed into it and comes with a felt mat. The bearing is made from stainless steel, with a soft bronze bushing and Teflon bottom. The platter is driven via a rubber belt that wraps around the motor's drive pulley and the periphery of the platter. The Elemental has a single-speed DC motor, so it requires manual speed change between 33 1/3 and 45rpm by moving the belt to the desired position on the two-step drive pulley.
The straight, 8.6" ultra low mass tonearm is optimized for Ortofon's OM cartridge series and comes with a pre-fitted Ortofon OM5E cartridge. There's no anti-skate adjust and the counterweight is fixed into place, as both are factory pre-adjusted with the right amount of bias and tracking force for the included cartridge. It also features an arm rest and a well-damped cueing mechanism.
The Elemental is available in 3 colors (red, silver & white) and also comes in a Phono USB model with built-in phono preamp and USB output, as the name implies. However, in this model the onboard preamp is not on/off switchable, so you can't upgrade the phono stage.
---
Pro-Ject released its first Debut turntable in the late 1990s, which set new standards in the entry-level category. At the beginning of 2012 they introduced the award-winning Debut Carbon, an upgraded version of the Debut III, that came with a carbon fibre tonearm, 12" platter and an improved standard cartridge. Two years later (late 2014), Pro-Ject updated its Debut turntable line with the Debut Carbon DC, featuring an upgraded motor and motor suspension system. The Debut Carbon and Debut Carbon DC look identical and share the same body, platter, tonearm and cartridge.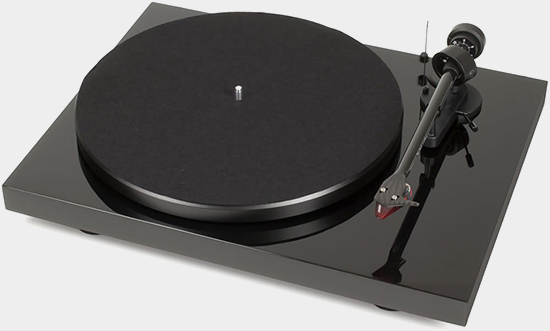 Its sturdy MDF plinth rests on four shock absorbing rubber feet and provide a solid, low-resonance foundation to the turntable. The heavy steel platter topped with a felt mat sits on a sub-platter which features low-tolerance chrome-plated stainless-steel axle and polished ball bearing system for smooth, quiet rotation. The Debut Carbon DC features a new DC power supply with a precision built-in frequency AC generator (like the one in Pro-Ject's Speed Box), which offers excellent speed stability, decreases motor vibration and uses much less power when in idle. The motor suspension has also been upgraded with new TPE (Thermo Plastic Elastomer) motor mounts to better decouple and isolate it from the turntable's chassis. Speed change is manual, so you'll have to remove the platter and place the belt by hand on the drive pulley's 33 1/3 or 45rpm position.
The turntable features a one-piece 8.6" carbon-fiber tonearm with integrated headshell and comes with a pre-mounted Ortofon OM 10 or 2M Red cartridge. Compared to typical aluminum tonearms, the carbon fibre arm tube provides low mass and increased stiffness, reducing unwanted resonance that colors sound. On the rear end there is a counterweight with an independently rotating dial to accurately set the tracking force, and an anti-skating weight hanging off the back of the tonearm and looping through a small hook. The tonearm system also includes a silicone-damped arm lift and an arm rest without a locking clip.
The Pro-Ject Debut Carbon DC is available in a wide range of high-gloss colours (black, red, green, blue, yellow, pink, silver and white) and comes with a clear dust cover. The Phono USB version is has a built-in phono stage and USB port, which allows digitalisation of your vinyl directly on a computer.
---
The U-Turn Orbit is a fully manual, all analog turntable funded by a successful Kickstarter campaign in 2013, which had an original goal of $60,000 and ended by raising $233,940. U-Turn Audio's aim was to create a simple, high performance and great sounding turntable at an affordable price by leaving out non-essential features. The Orbit starts at $179 and it's one of the best choices at this price point on the market. Each turntable is completely hand-assembled in the company's workshop near Boston, using mostly US-made parts, and undergo a strict quality control process.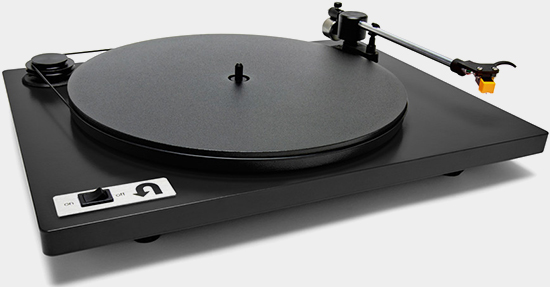 The machined MDF plinth is supported by three vibration damping rubber feet and comes in five different colors (black, green, blue, white and red). The unit is topped with a clear, molded dust cover attached to the plinth using a pair of plastic hinges. The Orbit Basic's platter is made from a CNC-machined MDF, finished with black textured paint and is covered with a felt mat. This rides on an inverted main bearing and is driven by a silicone O-ring belt coupled to a two-step (33 1/3 and 45rpm) Delrin pulley attached to the motor. The low-voltage AC synchronous motor is powered by a small wall-wart and provides excellent speed consistency with minimal pitch variations. The drive assembly is effectively decoupled from the plinth using a unique rubber suspension, providing good noise and vibration isolation.
The Orbit has a simple, 8.5" lightweight aluminum unipivot tonearm, which effortlessly turns on an inverted pyramid of precision ball bearings. On the front it terminates in an offset headshell that comes with a pre-mounted, aligned and balanced Audio-Technica AT91B cartridge. On the back it features an under-slung cylindrical counterweight which places the center of gravity below the unipivot point for greater stability. While there is no cueing lever installed by default, you can buy one separately for $40 and easily fit it under the tonearm without any tools. Other features that are missing from the Orbit is the anti-skating adjust and a force calibration gauge to go with the counterweight. The tracking force is pre-set at the factory for the included cartridge, but if you want to change it you'll need a separate gauge to accurately set the stylus pressure. The tonearm has silver-plated internal wiring that terminates in a pair of RCA jacks housed in a metal box on the bottom of the plinth. The turntable is internally grounded, so there is no ground wire.
Setting up the Orbit is quick and easy. Just place the platter on the spindle, wrap the included belt around the platter and motor pulley in the desired position (33 1/3 or 45rpm), attach the power cord and included RCA cable, plug the latter into your receiver or preamp and you're ready to play your records.
U-Turn is currently selling two models of the Orbit turntable, Orbit Basic ($179) and Orbit Plus ($309). The difference between them is that the Orbit Basic comes with an Audio-Technica AT91B cartridge and MDF platter, and the Orbit Plus with a higher-end Grado Black1 cartridge and premium acrylic platter. Also, the Orbit Builder on U-Turn Audio's website allows you to build a turntable to your own liking. Beside the color, platter material and variety of cartridges you can choose to have the Orbit with a separate or built-in (switchable on/off) U-Turn Pluto preamp.
---
Founded in 1985, Music Hall is a company manufacturing, importing, and distributing top quality, high-end audio components. Their turntable production began in 1998 and it's focused on modifying OEM product designs to meet their audio standards. They are manufactured in the Czech Republic, in a factory that has been making turntables for over 50 years, including Sumiko's Pro-Ject ones. Actually, despite differences in materials, finishes and cartridges, the Pro-Ject and Music Hall basic turntables are almost identical. They are using the same power supplies, motors, suspensions, belts, dust covers and platter mats.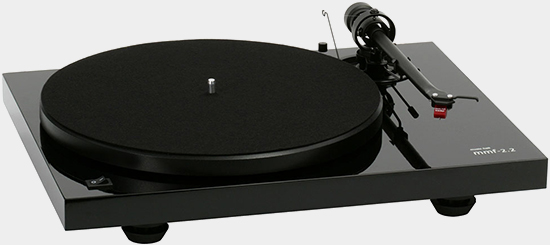 The MMF-2.2 is the entry level model of Music Hall's turntable range and is an upgraded version of the older MMF-2.1. Its sturdy MDF plinth rests on three vibration damping adjustable feet and provides a solid, low-resonance foundation to the unit. The feet can be adjusted to perfectly level the turntable when it's placed on an uneven surface. The included hinged dust cover is easy to remove, which is a recommended procedure when listening to records, since it can cause unwanted resonances on the plinth.
The MMF-2.2's machined steel alloy platter sits on a non-resonant polymer sub-platter, which runs on a high-precision, stainless steel and bronze bearing assembly. This provides excellent speed stability and smooth operation. The shock-mounted DC synchronous motor and belt drive system effectively isolate vibrations from the chassis and prevent noise from being transferred to the cartridge. While the MMF-2.1 had a transformer encased in the turntable unit, the MMF-2.2's power supply is relocated to an external adapter to eliminate its noise from the reproduced sound. Speed change is done manually, by removing the platter and looping the drive belt around the motor pulley's smaller or larger diameter rim.
The one-piece, high-quality alloy tonearm is pre-mounted with a Music Hall moving-magnet phono cartridge and includes a counterweight and a hanging weight anti-skate adjustment system. The MMF-2.2 has a height adjustable tonearm, meaning you can adjust the vertical tracking angle (VTA) when using a thicker platter mat. It also features a silicone-damped cue lever for gentle tonearm raising and lowering.
The Music Hall MMF-2.2 is available in three high-gloss finishes: Black (the standard model), Ferrari red (MMF-2.2LE) and white (MMF-2.2WH).
---
British audio company, Musical Fidelity has been designing and manufacturing Hi-Fi electronics for over thirty years and is now a well-known brand in the industry. The Roundtable is the turntable part of Musical Fidelity's Merlin, a multi format audio system which also includes a digital amplifier and Bluetooth apt-X streamer, and a pair of custom-designed Merlin 1 speakers. While the Merlin is sold as a complete system, its components can also be purchased separately.

The Roundtable is the company's second turntable model and is produced by Pro-Ject to Musical Fidelity's bespoke specifications. Unlike their first turntable, the luxurious-looking discontinued M1, the new model uses a simple design. Using a pioneering central-balancing approach, its layout has been designed to ensure that the turntable is statically balanced, with the motor, arm and other parts arranged to put the centre of gravity at the pivot point of the main bearing. This somewhat explains why the Roundtable has an unusual oversize plinth.
The plinth is made from a bulky low-resonance MDF with high mass and low resonance, and comes in black or glossy red finish, which matches the speakers from the Merlin system. Mounted on compliant feet, it has been designed to be as inert as possible. The platter is made from finely machined MDF and sports a polished high carbon tool steel bearing, which is claimed to have "an exceptionally long life and friction free performance". Like in previously mentioned turntables, speed is changed by moving the round section drive-belt on the two-step motor pulley.
The Roundtable has a straight, low-resonance 9" aluminum tonearm, with steel-tipped bearings housed in zirconium with rubber damping, similar in principle to the Incabloc shock protection system used in high quality watches. It comes with a pre-mounted Audio Technica AT-95E cartridge and features an adjustable counter weight, height adjustment and a newly designed magnetic anti-skate mechanism.
The turntable has no dust cover, but Musical Fidelity supplies cotton gloves for belt handling, an alignment protractor and stylus pressure gauge, a felt platter mat, plus an Allen key for counterweight adjustment.
---
The Teac TN-300 is a recently introduced belt-drive turntable with a stylish look and a built-in phono stage with USB output. Under the multi-layered coating and glossy finish is a solid MDF plinth designed to resist external vibration and minimize unwanted resonances. The plinth sits on 4 aluminum feet and comes with a dust cover slided into a pair of plastic hinges. On the top of the unit, there is a start/stop knob and an automatic speed selector between 33 1/3 and 45rpm.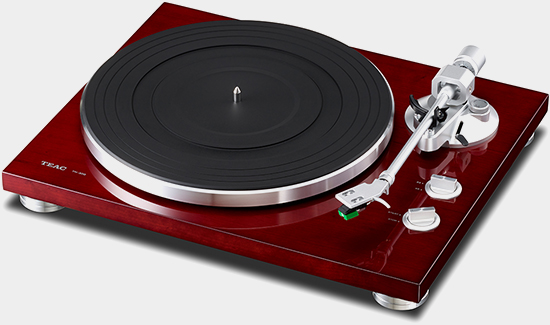 Its high inertia, aluminum die-cast platter topped by a heavy duty rubber mat is driven by a high-torque DC motor with durable Neoprene belt which isolates motor vibration and provides a stable rotation. The accuracy of the spindle is maintained by the polished stainless steel spindle and the highly durable bronze housing, that minimizes friction for smooth, silent rotation.
The TN-300's straight, balanced tonearm is pre-fitted with an Audio-Technica AT-95E moving magnet cartridge and comes with an adjustable counterweight and anti-skate adjustment dial.It has a light-weight aluminum construction with low resistance bearings in the pivoting mechanism.
The turntable has a built-in, on/off switchable phono preamp for moving-magnet cartridges, providing both phono and line level output. This allows you to connect it directly to almost any audio system, with or without an external phono stage. It also has a USB port using a TI-made analog-to-digital converter that makes vinyl digitizing easy.
The TN-300 is available glossy black, natural wood, cherry, red and white finishes.
Another budget turntable from Teac is the TN-200, a lower-spec version of the TN-300.